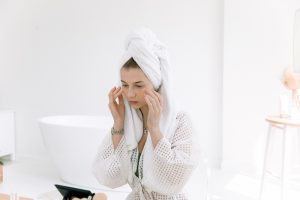 Taking care of your skin is one of the best ways to maintain its natural beauty. The foundation of healthy skin is clean, fresh skin. Cleansing morning and night is crucial for removing makeup and built-up oils from the skin without stripping it of its natural oils. Choose a cleanser that is designed for both the night and the morning, and use a no-rinse formula to remove makeup.
Exfoliation
There are a lot of skin care beauty tips out there and exfoliation is one of them. Exfoliation is an important part of skin care, but if done incorrectly, it can cause the skin to tear up. These micro-tears can allow bacteria to enter the skin and cause inflammation, broken capillaries, and scarring. Only use the correct products to exfoliate your skin.

When exfoliating your skin, use a scrub with granular material, such as sugar or salt. Gently rub the scrub into your skin in circular motions, and then rinse with warm water. Exfoliation can be very drying, so use a moisturizer afterward to keep your skin supple. You can also use chemical exfoliants. These products loosen the bonds between new skin cells and dead skin cells.
Hydration
A moisturizer containing hyaluronic acid is an effective hydrator. Its ingredients, which include ceramides, fatty acids, and aloe vera, help your skin retain moisture. A good moisturizer will also contain occlusive agents, which prevent moisture from evaporating and keep it in your skin longer. If you have dry skin, try a lightweight gel-cream containing hyaluronic acid, like Neutrogena Hydro Boost Water Gel.
If you're trying to achieve your dream skin, try moisturizers with hyaluronic acid. Hyaluronic acid has a unique water-binding property, and it's an effective ingredient to avoid early signs of aging. Another hydrating ingredient is glycerine, which attracts moisture to the skin's surface. In addition to using moisturizers, you should also try reducing the temperature of your shower and running a humidifier. These steps will keep your skin healthy and hydrated.
Choosing the right skincare products
Buying the right skincare products for beauty is important for your skin and overall health. Many of us are confused by the different skincare products on the market. However, with a bit of research and information, we can find the best products that suit our skin. Let us first take a look at the factors that need to be considered while buying skincare products. Skin type is the most important consideration. It is important to choose the right products if you are prone to dry, oily, or sensitive skin.
The price of skincare products depends on several factors, including the brand name, ingredients, and quality. However, it's important to know the price range of the products before making a purchase. Choosing a product with a lower price does not necessarily mean that it will work well for your skin, so you should not buy it if your budget is tight. Instead, look for affordable products that can meet your needs without causing too much damage to your wallet.
Applying them in the right order
While you may have heard of skincare beauty tips based on experience, you might not know the correct way to apply them. Incorrect layering can make the products ineffective. Moreover, improper application can cause strong reactions and even lead to irritation. In order to achieve optimal skin care results, follow a well-researched routine. Here are some of these tips. Using skincare products in the right order can result in radiant skin.
The right order to apply skin care products is important because different formulas have different concentrations of active ingredients. Hence, applying them according to their consistency will ensure that the ingredients can penetrate all layers of the skin. In general, apply thin products first, and then use a thicker one. It is important to apply emollients and humectants to moisturize the skin first, then apply day creams and sleeping masks.
Ingredients to avoid
If you're looking for products that are gentle enough to use on your face, you may want to avoid certain ingredients. For instance, fragrances can be harmful to your skin, and you should choose products that do not contain them. Fragrances can irritate the skin, and both natural and synthetic scents may contain harmful ingredients. According to the Academy of Dermatology, fragrances are among the leading causes of contact dermatitis.
Benzene, a byproduct of toluene, is a bone marrow poison that is linked to leukemia. Some studies have linked benzene to miscarriage and cancer. While it is banned in soaps, it's still found in other cosmetic products, including toothpaste, mascara, and foundation. Despite this, cosmetics and skincare products are not regulated by the FDA, so you should always check the ingredients of any product before purchasing. Some products labeled as "natural" may contain as many as 10 times as many chemicals as conventional brands.