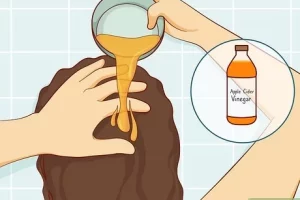 When it comes to how to get chlorine out of hair, there are a few different methods that you can try. While there are certain products on the market that are specifically made to do this, you can also use some simple techniques to get the chlorine out of your hair.
Chlorine can be very damaging to your hair. It can cause dryness, split ends, and a dull, lifeless appearance. In addition, it can damage your scalp and make it itchy. The good news is that it is possible to remove chlorine from your hair.
Shower to get chlorine out of hair
A good first step is to shower right after swimming. This will ensure that your hair and scalp don't absorb any more chlorine. You should also use a shampoo and conditioner to protect your hair from the chlorine's drying effects. While you're doing this, you should also take the time to massage your scalp, and distribute the sebum on it. If you don't do this, you might develop a dandruff problem.
After you rinse your hair and scalp, you should apply a richer masque to fight the chlorine's drying effects. This will restore moisture to your strands, and reverse any significant damage.
Swimming in outdoor pools reduces the amount of chlorine
Outdoor swimming pools help to reduce the amount of chlorine in hair. This is because chlorine breaks down when exposed to UV light. Leaving the pool uncovered allows for this process to take place faster.
Chlorine also irritates the skin, especially in people with sensitive skin. Its presence in the water can lead to itchy and dry skin, blistering and even skin infections.
Chlorine can cause other unpleasant side effects as well. For instance, it can irritate the respiratory tract and cause wheezing. Likewise, it can be irritating to eyes. If you experience a stinging sensation or redness on your eyes, you should test the chlorine in your pool.
Several studies have shown that people with asthma are at risk for developing chloramines in the air around their swimming pool. You can protect yourself from the symptoms of this chemical by keeping a reliever inhaler at the pool, using a chloramine neutralizer or waiting to swim until the water parameters are normal.
Using a swimmer shampoo to get chlorine out of hair
Using a swimmer shampoo to get chlorine out of your hair is an important step to avoiding future damage. This is because chlorine can make hair dry and brittle. It can also cause a green tint to lighter hair.
Depending on your hair's condition, it may take several washes to completely remove the buildup of chlorine from your hair. If you swim in a pool, it is especially important to find a good swimmer shampoo. You need to select one that is designed for your particular hair type.
The best swim shampoos are made of natural ingredients. Some of these include vitamins, aloe, and humectants. They also help protect your hair from the salt and water in the pool.
Babo Botanicals is an herbal shampoo that was created by leading botanists to help swimmers get chlorine out of hair. The shampoo is free of chemicals, gluten-free, and perfect for divers with an irritated scalp.
Paul Mitchell is another brand of shampoo that is known to remove chlorine from hair. The shampoo also works to strengthen and repair your hair after being exposed to chlorine. Moreover, it prevents future buildup.
Applying a leave-in chlorine protectant
When it comes to swimming in chlorinated pools, it's best to be safe than sorry. Luckily, there are many ways to protect your hair from the corrosive effects of chlorine. One way to do this is to apply a leave-in conditioner to your hair before you jump in the pool. Not only will this prevent your hair from getting damaged, but it will also make it feel silky and moisturized once you rinse it out.
There are several different types of leave-in conditioners to choose from, including those that are specifically designed for swimmers. Some of these are even formulated with a special "swimming" active ingredient that mimics your natural scalp's natural oils. The best part is, you can find a leave-in conditioner for just about any budget.
For your swimming routine, you can also rely on the latest in shampoo technology to get rid of chlorine in your hair. A deep conditioning mask can be a big help, too. Using a sulfate-free shampoo is a good idea for all hair types.
Using a moisturising hair mask
When your hair is exposed to chlorinated water, it may feel dry and damaged. Using a moisturising hair mask to get chlorine out of your hair can help restore it to a soft and manageable condition.
Hair is composed of protein called keratin, which keeps it strong and healthy. When the cuticle of your hair is damaged, your locks become fragile and break easily.
Chlorine is found in swimming pools, and it can leave your hair dry and brittle. A weekly leave-in hair mask can help reverse this damage.

The best hair masks use a combination of hydrating ingredients to repair and restore moisture to your hair. This way, your strands are more able to bounce back to their original condition.
Some of the ingredients to look for in a hair mask include avocado, egg, yogurt, and banana. These foods are rich in essential amino acids, fatty acids, vitamins, and antioxidants.
Applying a mixture of avocado and olive oil is a great way to hydrate your hair. Mix the two ingredients and apply it to damp or dry hair. Leave the mask on for about 20 minutes. After this, rinse your hair with cool water.
Use baking soda to get chlorine out of hair
Baking soda can be used to remove the chemicals that cause your hair to be damaged by chlorine. Mixing a small amount of baking soda with water and lathering your hair with the solution will remove any chlorine from your hair.
Whether you're swimming in a chlorinated pool frequently or just using it occasionally, the risk of damage to your hair is real. Although it may be hard to believe, it's true. Your hair's natural oils can be stripped away, causing it to become brittle and dry.